Product Description
Hot custom nail art stamping plates ,holesale 5.5cm nail plate New Comingnail art stamping plate in stock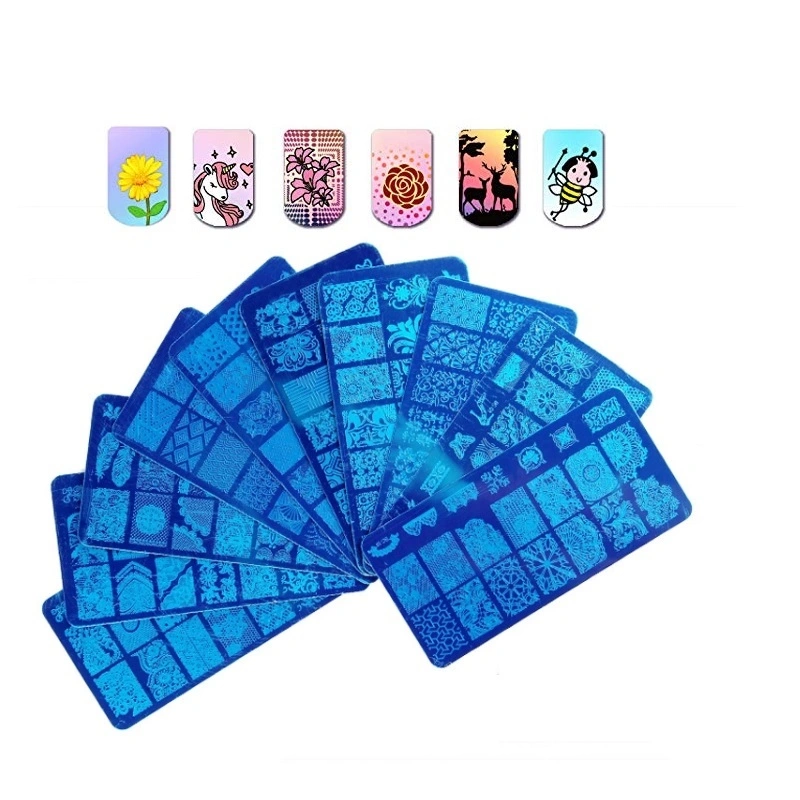 Nail stamping is a wonderful, cost-effective way to create beautiful one-of-a-kind manicures. We know you want to spend your time actually stamping your nails, not scouring the internet for the best stamping plates.
To this end, WE ARE THE ONE FOR YOU. We can do any design nail stamping plates,Scraper Steel,Pattern Templates ,Transfer Stencils Nail ,Steel Stamp ,Manicure Stencils Nail Art ,Stamper Scraper ,Stamp Templates,Steel Template,Nail Art Stamping Plate , Just contact me!!!
Beyond Ordinary! Customize, Personalize, Make it unique, Make it yours!
| | |
| --- | --- |
| Item no.: | nail art stamping plate |
| Description | nail art stamping plate |
| Size: | round, retangle or customize shape |
| Color: | customized or 2 PCS Double-side Stamping Image Plates |
| Packaging: | customized or Box Package, Bubble pack wrapped |
| MOQ: | 100pcs |
All of the nail stamping plates we offer are well etched, versatile and made of stainless steel, for reliable repeat use.
Create your own beautiful nail design. Suitable for professional use and home use.
Excellent nail art stamp, ideal for decorating nails in your own home.
Varies optional pieces image plates, various patterns, beautiful and fashionable.
Each plate are designed with many beautiful patterns, start your DIY journey.
Made of high quality material, durable for long time use.
Features:
Double-Sided, More Designs, Less Space & Unique Multi-Print Design -- Double-sided design, more patterns to choose, a good space-saver;
Perfect Size For Nails, Moderate Depth To Stamp -- Full nail images measure 1.5cm x 2cm (0.59 in x 0.78 in );The whole plate measures 8cm X 14cm (3.15 in X 5.51 in). Etched deep enough to hold enough polish for a beautiful opaque stamping result, not so deep that end up with extra polish to smudge onto your nail. Easy to use for both beginners and experienced nail artists;
Blue Protect Film, Original Package Sleeve -- Well protected from bend, scratches, and damaged with a transparent film; Handy sleeves storage;
Sandy Edges, NO hurt When Playing; Heavy Enough, NO Bend; High Quality, Appealing Price, A great investment for any nail art collection;
Instructions:
The plate is shielded by a thin transparent protective film, please remove the film before use, so that the nail polish can be transferred by the stamper.
What you need:
1) Nail Polish - we recommend you use a nail polish that is opaque and has a strong pigmentation. Avoid dry fast polishes. For best results use stamping polishes.
2) Stamp and scraper
3) Nail Art Stamping Plate. Remove the transparent protective film before use.

Before you start:
1. Make sure you remove the protective transparent plastic film from the front of the plates before use.
2. Clean the plate with a cotton ball with 100% pure acetone to remove the possible glue of the plastic film and let it dry.
ONLY USE 100% ACETONE TO CLEAN THE PLATE
How to stamp:
1. Make sure that your nail is completely oil free before applying stamping nail polish.
2. Apply a base coat.
3. Make sure the base coat is completely dry before you stamp.
4. Apply the nail polish on the selected design of the image plate.
5. Use the scraper to remove the excess nail polish, making sure you are holding it at a 45 ° angle. Do not press very hard in the process as this will cause too much of the nail varnish to be scraped out of the engraving.
6. Roll the Stamper to pick up the nail polish from the design and transfer it onto your nail. Make sure you move fast and apply an event on it.
Detailed Images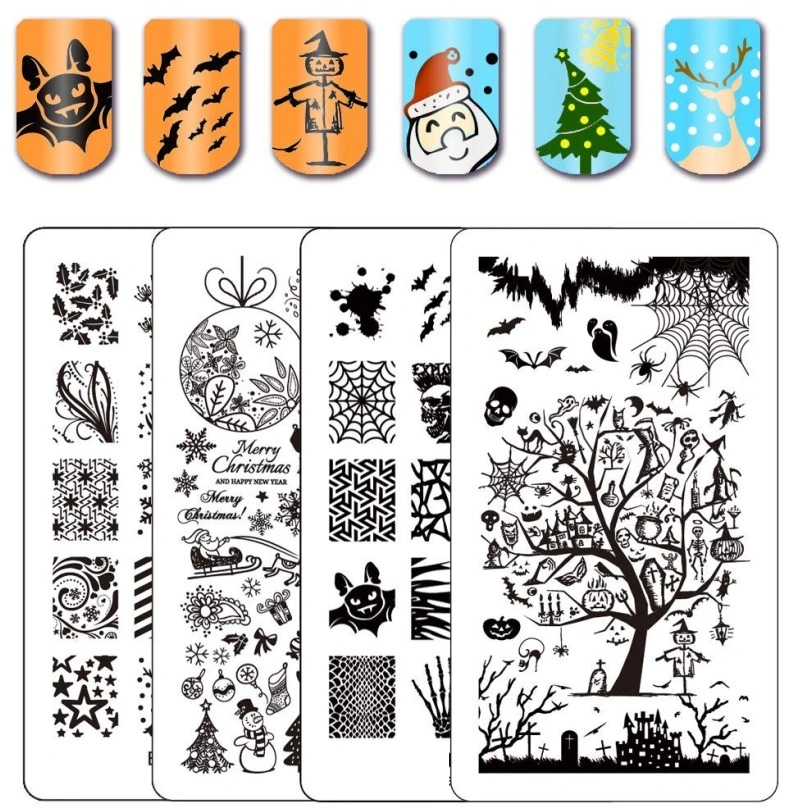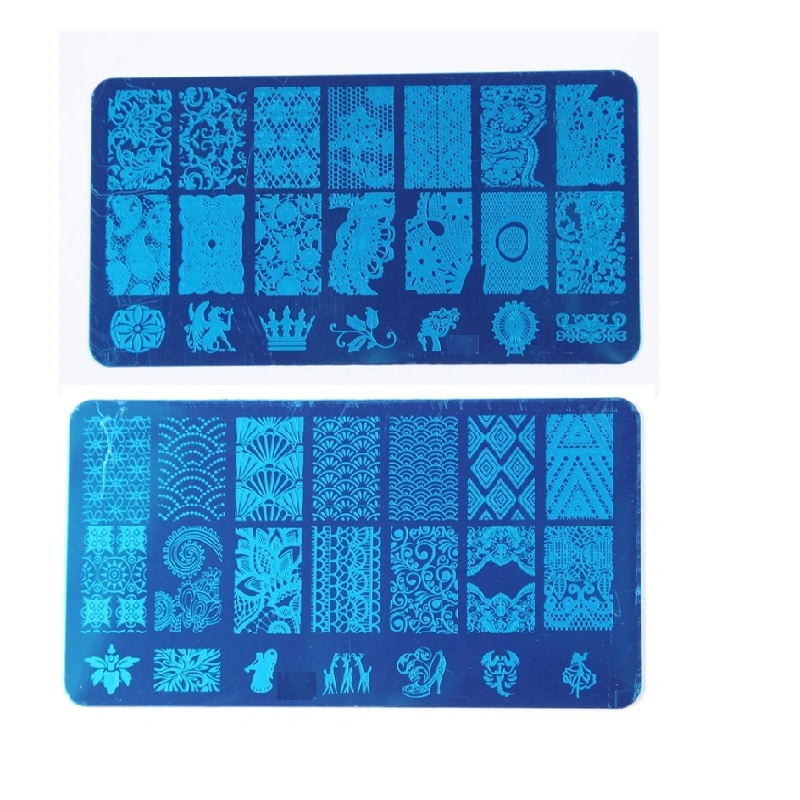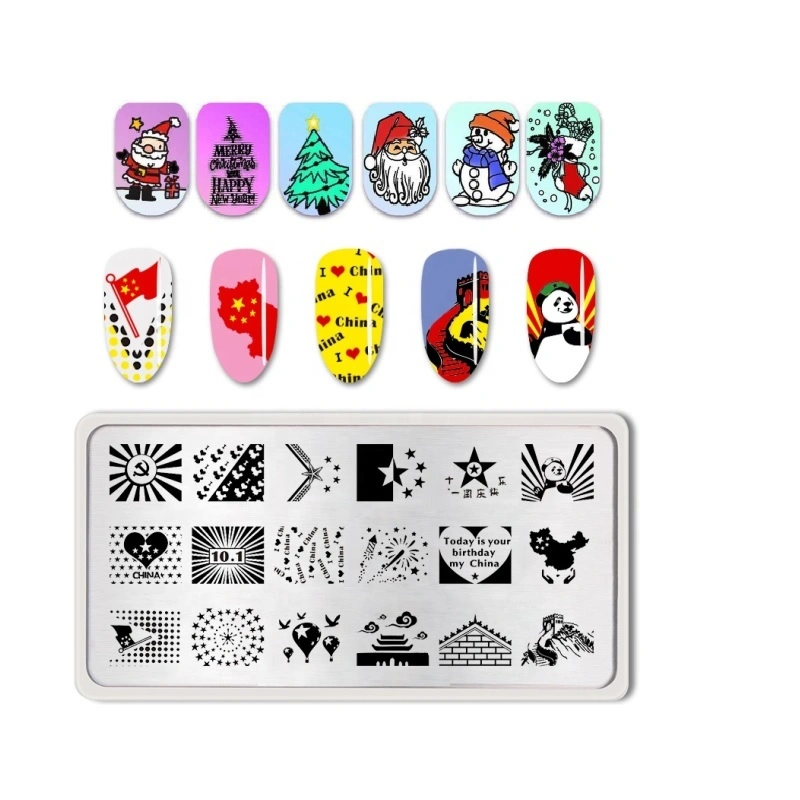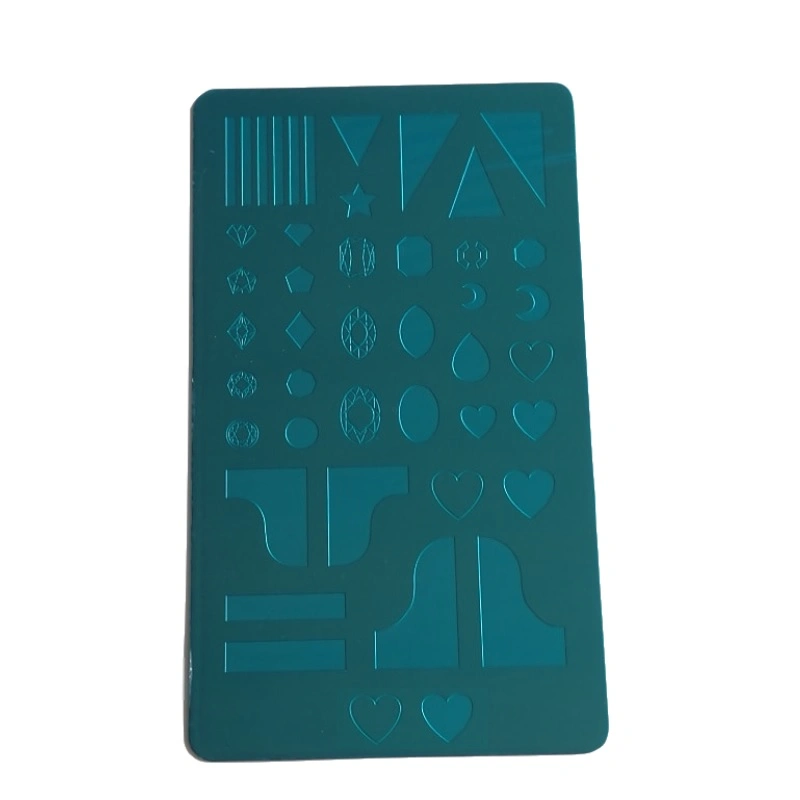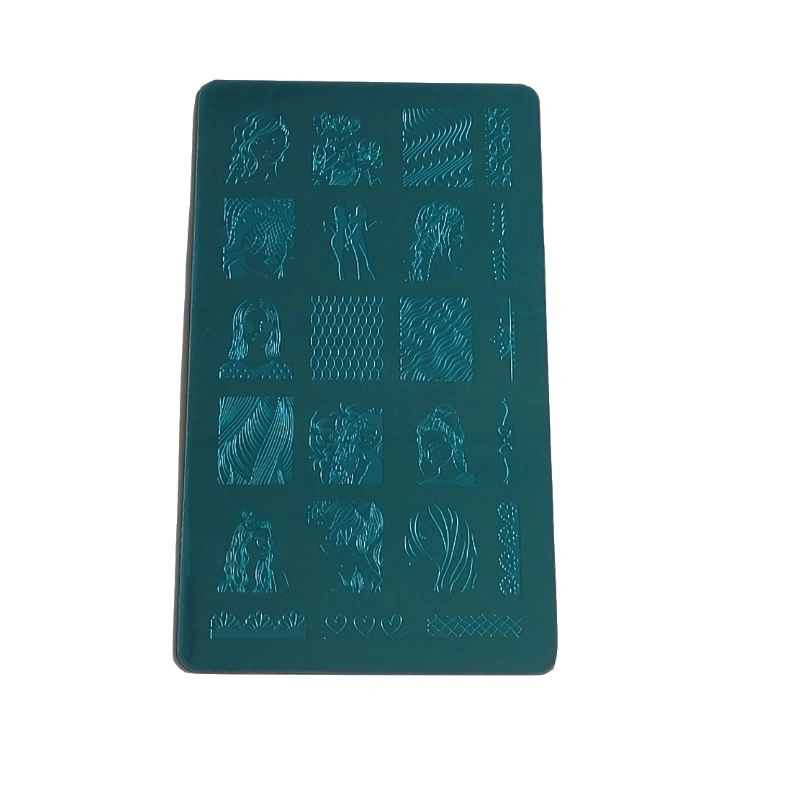 Other Products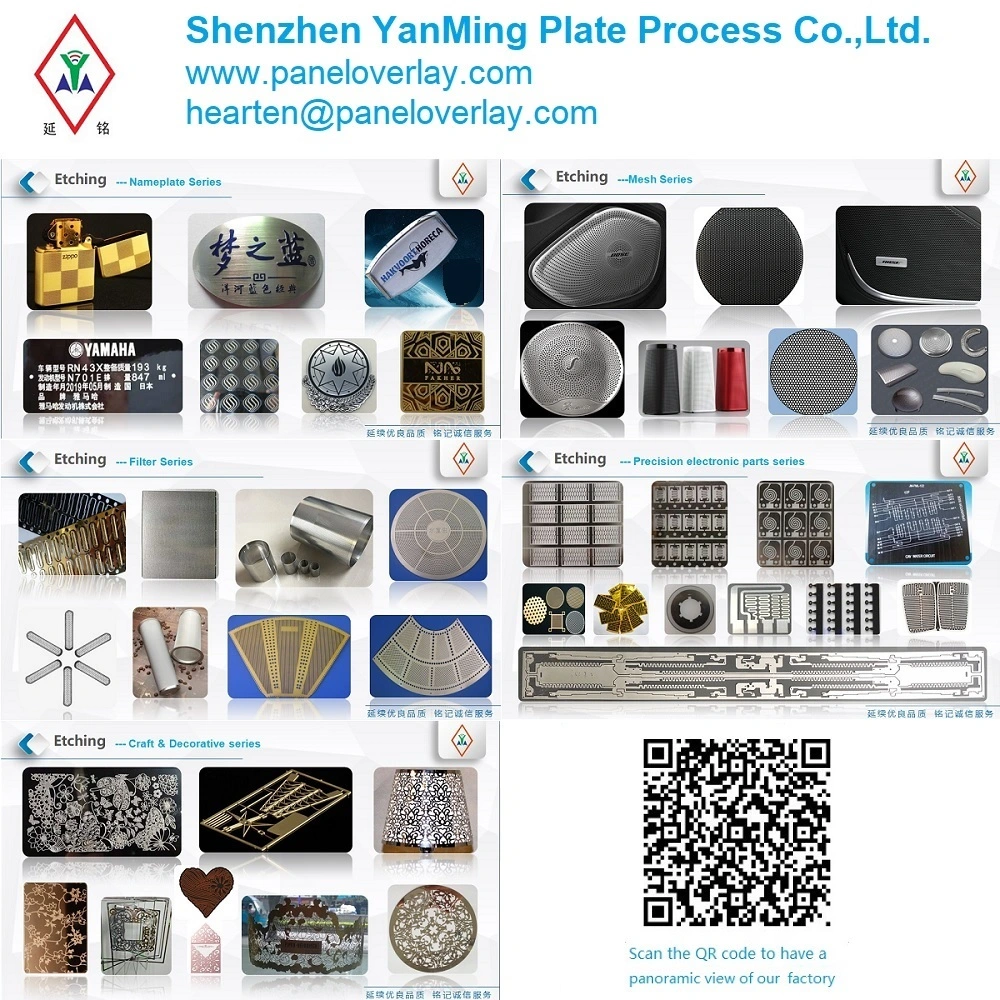 Company Information
We Shenzhen Yanming Plate Process Co., Ltd. is professionally customize manufactoring various types of front panel,control panel graphic overlays and nameplates etc with different materials from 2006, benefit from our production capacity, fast delivery, good quality control and after service, now we are the first class supplier for many partners in China and abroad.
Each product may be customized according to your own requirements with varying options for materials and manufacturing processes like screen printing, offset printing, laser marking, laser cutting, photosensitive imaging, embossing, stamping, chemical etching, digital printing engraving etc, a variety of adhesives and finishes are available to complete your product, we constantly strive to provide customers with quality service and production.

Why Choose Us:
1. We can provide you good quality products with factory price.
2. We will reply to your inquiry as soon as possible.
3. Patient and professional sales team.
4. Delivery on time.
5. Our products are highly appreciated by customers from many countries.
6. We are factory manufacturer, and welcome your designs or ideas!
FAQ
1. How to make an order?
Please tell us your material,artwork design,size,surface.
2. Sample available?
Yes, but based on freight collect. Most of the items are customized for clients, so molding charge is needed.
3. How to guarantee the after sales service?
We will track the production situation of the goods during the whole process,we promise the goods will be shipped to you smoothly. If any problem happened, we will provide the best solution for you.
4. Shipping ways & Delivery Time?
Shipping by: UPS/ Fedex /DHL /TNT or other ways specified.
Delivery time: 5-10 days after payment received.
5. Payment terms: T/T .
Our Services
1.If you get our goods there are models, size, color problems. We will carefully verify and solve for you, usually in the next order directly for your replenishment.
2. If you have any help in the sales process, we will be happy to work with you to solve the problem.
3.If you have good advice on the quality, design, packaging, transportation, or other aspects of the product, you can tell us that we will try do our best.
4.Our service is not finished after the goods, that from your order to sell the whole process of goods, any problems we will help you solve.